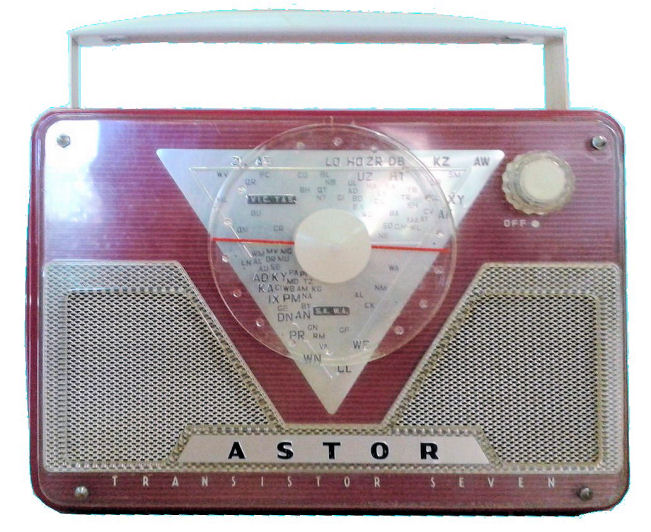 1958 Astor HPN 7 Transistor (The first Astor portable transistor radio)
MEETING 1.30 pm Sat 4 December 2021
Venue: St Faiths Church Hall
4-8 Charles Sttreet Glen Iris
In order to comply with Government Regulations, only fully vaccinated, (both doses), members are able to attend and proof will be required at entry. Please do not attend the meeting if you have:
• Any cold or flu symptoms, a fever, sore throat, or a cough, even if you have had a negative Covid-19 test
• Been in contact with anyone with Covid-19
• Been awaiting test results for Covid-19
1. Your temperature will be taken with a non-contact thermometer before entering the hall with anyone who indicates a high reading being asked to leave.
2. Hand sanitiser will be provided on entry.
3. Your name and 'phone number will be recorded on entry and retained for 28 days to assist with contact tracing if needed.
4. Current Government Regulations state that Masks must be worn inside.

Activities for the day: (Start time 1.30pm).
Video: Nicola Tesla The Greatest Mind of All
Theme: Australian PYE radios
Mini Auction
About us
Disclaimer: The views expressed in this Web site are strictly those of the authors. They do not necessarily reflect the views of the AVRS committee. This web site contains links to the web sites of various commercial organisations offering radios or parts for sale. AVRS has no commercial interest or any affiliation to these organisations, and this information is provided solely as a service to members. No endorsement of any product is expressed or implied.

Copyright 2012-21 Australian Vintage Radio Society.